Car sales in a pandemic year
In March 2020, the European car market collapsed 55% compared to the previous year after the initial lockdowns globally.
Although lockdowns have since returned after a few false reopenings and initiated new corrections, European car sales in March 2021 posted a strong rebound, resulting in a level of 84% of the pre-pandemic level. Even though car registrations are still 16% lower, given the prospect of vaccines and summer re-openings, the potential upside for new car sales seems promising.
European car sales back at 84% of its pre-pandemic levels in March
Index development of new car registrations in the EU 27 (2019 = 100)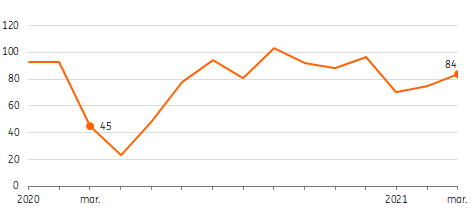 Source: ACEA, ING Research

Sweden sees strongest rebound while Portugal remains stuck
Nordic countries displayed the most significant rebound of new car registrations in March, particularly Sweden, which saw registration soar in comparison to pre-pandemic levels. However, on the other side of the continent - in Portugal - car sales are still half of what they were before the pandemic.
This disparity seems to reflect the impact of various movement restriction measures in different countries, which are absent in Sweden, indicating that demand is ready to return more substantially as soon as measures are eased.
Large regional differences in European car market recovery
New car registrations European countries* March 2021 compared to March 2019 (pre-coronalevel)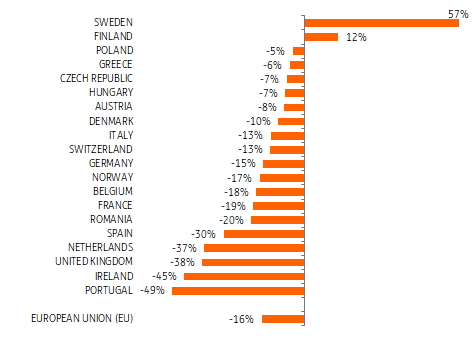 Source: ACEA, ING Economics Department *countries > 5.000 registrations

Chip deficit slows recovery pace in 2021
According to carmakers, orders for new cars seem to be ahead of new registrations.
Due to supply chain disruptions, lead times for some new cars have increased, which will slow the uptake of registrations going forward. Carmakers worldwide are currently facing semiconductor shortages, which has already led to production cuts and several interruptions at car production sites, with BMW as one of the few exceptions.
A significant player in chip production - TSMC - expects deficits of specific chips to continue throughout 2021. To meet soaring demand, the Taiwanese chipmaker is boosting capital expenditure to USD28bn in 2021 and on top of that, the company plans to invest still more, to the tune of some USD100bn in the next three years to grow capacity.
In our view, chip shortages are expected to limit the rebound of the car market in FY21.