All current measures can be found here.
Government decrees in English can be found here.
On June 8, the Government unified rules and conditions for so called OTN (očkování/vaccination, testování/testing, potvrzení o prodělané nemoci/suffered from Covid) to be applicable for all situations and places: PCR test in the past 7 days, antigen test in the past 72 hours, confirmation about the antigen test performed at school or employer, confirmation about vaccination 22 days after first dose, confirmation about Covid suffered within the past 180 days, or antigen test performed upon entry in real time.

The OTN rules (rules to prove "non-infectiousness" meaning vaccinated/tested/recovered from Covid) are applicable generally across the country. After July 1, respirators have been obligatory indoors, i.e. in public transport, buildings, concerts, theaters, congresses, and private events for more than 10 participants, but not outdoors anymore, except outdoor events for more than 30 persons or where the safe social distance cannot be kept.
From September 1, the number of visitors of zoos, botanical gardens, museums, galleries, exhibition spaces, castles, chateaux and similar historical and cultural buildings, observatories and planetariums, fairs and trade shows has been limited to the capacity of premises following a condition of distance of 1.5 m between visitors. The organizers of cultrual, sports and education events as well as congresses will be able to fill up to 100% of their capacity. The capacity of choirs can be increased from 30 to 50 people.

As for sports and cultural events with a capacity of up to 3,000 people, visitors are obliged to follow one of the OTN requirements, for venues with the capacity of more than 3,000, at least half of visitors must be fully vaccinated or be able to provide a certificate on the recovery from Covid-19 in the past 180 days. Generally, indoor mass events are capped at 1,000, outdoor events at 2,000 participants.

The number of visitors at the restaurants and bars was increased from 4 to 6 people seated at one table. More.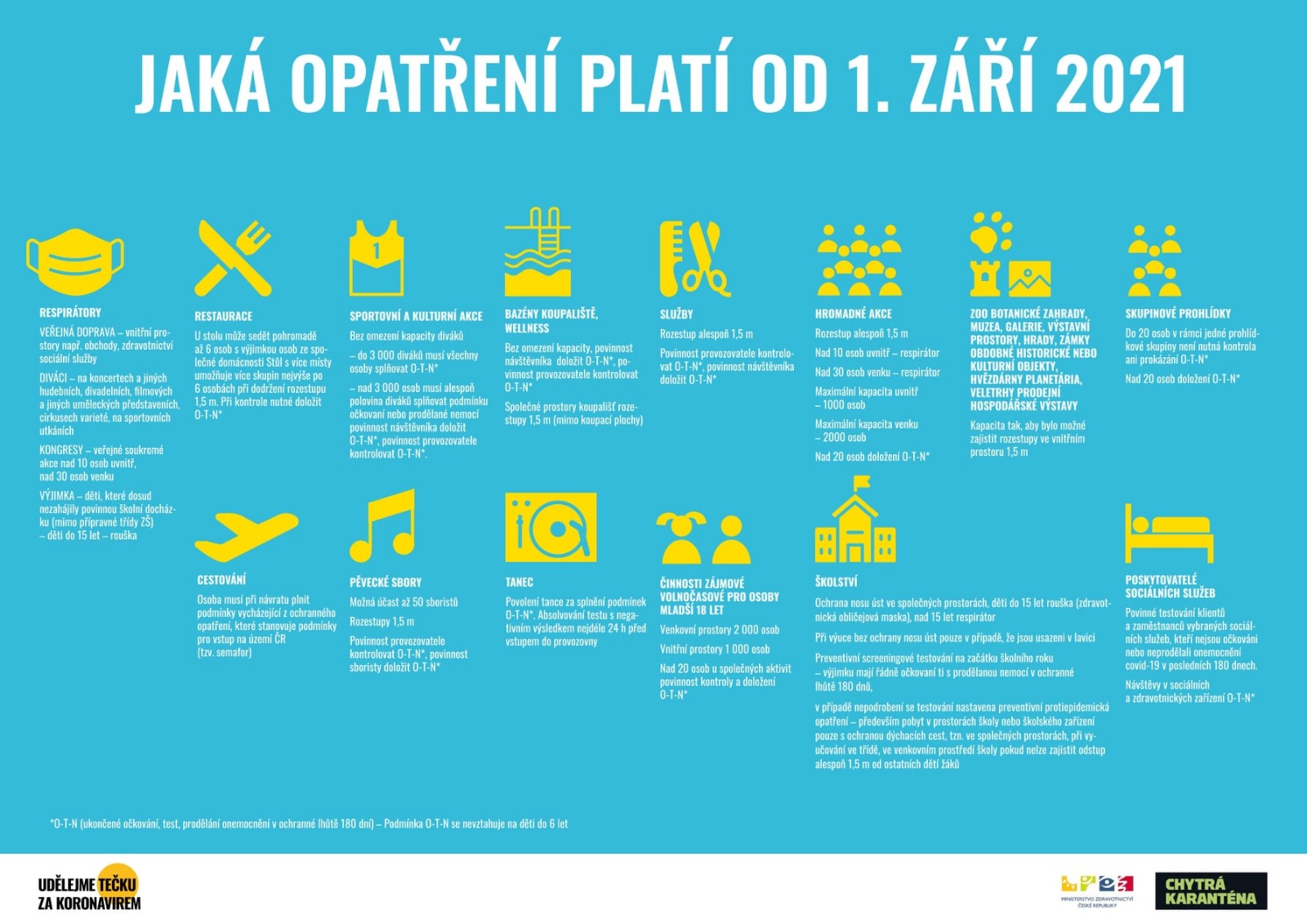 From July 19, organizers of events where more than 1,000 participants are expected, have been obliged to report this fact to the regional hygienic station.

From June 26, the number of people shopping in retail units as well as visitors of museums and galleries was increased to 1 person per 10 m2 (from 15m2 earlier). The ban on marketing events (such as tastings) held by retailers was lifted. The obligation for service providers to keep records of all theirs customers (hairdressers, masseurs etc.) was lifted.

From June 26, live music production has been allowed (dance remained excluded until August 1) inside restaurants and clubs - OTN rules apply. From August 1, the number of visitors of the swimming pools was no longer limited, OTN rules apply.
VACCINATION & TESTING
During September and October, the Ministry of Health will launch the PREVAL II study, with an aim to get relevant information on the real status of antibodies and cellular immunity to SARS-CoV-2 in a sample of approximately 8,000 people, including chronic patients, healthcare professionals and those tested in 2020 during the first phase. The research will take place in Prague and Olomouc, in cooperation with SUKL and UZIS.

As of September 10, the National vaccination center at O2 Universum was closed. The center was in operation from May 3. ÚVN (Ústřední vojenská nemocnice) will continue vaccination in the hospital campus. Since September 17, also the Metropolitan vaccination center at Prague Congress Centre has been limited, and will continue to operate on a limited basis under Medicon, Inc.

From September 20, third (booster) dose of Covid vaccine will be applied to specified groups of citizens., generally 8 months after their full vaccination.
From September 1, clients and users of social care services as well as employees in social services, providing care in residential facilities have been obliged to undergo Covid-19 tests every seven days (unless they are vaccinated, recovered from COVID-19 in the past 180 days or can provide a negative PCR test result).
From July 12, it is possible to get vaccinated without registration at walk-in vaccination centers in several towns in the Czech Republic, including Prague, Zlin, Ostrava, Brno, Luhacovice, Uherske Hradiste and Jaromer. From July 15, the interval between two doses of Comirnaty vaccine (by Pfizer/BioNTech) can be shortened to 21-23 days. The period between vaccination doses for other two-doses vaccines remains unchanged.
The City of Prague launched a new information campaign on vaccination aiming at young Prague citizens (between 16 and 29 years of age) to get vaccinated. Prague citizens can register for vaccination at ockovani.praha.eu.

From July 7, citizens or EU residents of Czechia vaccinated in third countries have been able to obtain an EU COVID certificate issued by the Czech Republic.
The Ministry of Health capped the price of PCR and AG test for private payers (not covered by the public health insurance). From July 1, each PCR test with a positive result has to be confirmed (by another PCR test) in order to track potential mutations.
Between June 1 and September 30, 2021, each participant of the Czech public health care insurance system is eligible for two PCR tests and four AG tests covered from health insurance.
From July 1, the vaccination registration opened for persons aged 12+ in the Czech Republic.
From June 1, it has been possible to download Czech e-certificate on vaccination at ocko.uzis.cz, applicable for travel of Czech citizens.
As of May 24, the post-infection period (meaning the acknowledged period of immunity against Covid-19) was extended from 90 days to 180 days. At the same time, the Government approved that 22 days after the first dose of double-dose vaccine or 14 days after single-dose vaccine, the person is considered as vaccinated for the purposes of the Government health and safety measures. Government measures require evidence of either vaccination, having recovered from Covid-19 in the past 180 days, or a negative Covid-19 test result.
The Czech Government Udělejme tečku vaccination campaign started with the target of 70% of the Czech population being registered for vaccination. The campaign includes an information website Česko očkuje and a dedicated website Komunikace pomáhá providing communication kits to download. The ambition is also that the campaign is spread via companies, trade unions, interest groups, regional governments or influencers.
The Government opened the pilot run of the National vaccination center in Prague O2 Universum. The full operation was launched on May 3, 2021. The Prague vaccination centre Vyšehrad gradually increased its capacity to 2,000 per day.
On May 6, the European Commission complemented the EU Vaccines Strategy with a strategy on COVID-19 therapeutics to support the development and availability of COVID-19 therapeutics, including for the treatment of 'long COVID'. The Strategy covers the full lifecycle of medicines: from research, development and manufacturing to procurement and deployment.
Vaccinating Foreign Nationals against Covid-19
Czech Government Vaccination Strategy
EU Strategy for Covid-19 Vaccines
Mandatory testing of employees - lifted from July 1, 2021.
The testing (with POC antigen tests performed either by healthcare professionals or antigen tests self-administered) was mandatory for all companies, public institutions, health and social care providers, businesses with less than 10 employees as well as self-employed persons (the measure targeting SMEs was revoked on June 28, 2021 by a court decision). The state support for each test amounted to CZK 60. Testing was carried out at least once a week, with exception of those who have been tested positive for coronavirus in the past 180 days, have undergone isolation and showed no symptoms.

Unless the employee was not tested negative (by RT-PCR or antigen tests), the employer could not allow him or her to access the workplace. The obligation to submit a negative test result when arriving from abroad could not be replaced by voluntary isolation or quarantine. Mandatory testing of employees in companies, NGOs, public sector institutions, including self-employed, terminated on June 30.
Fourteen Day Case Notification Map for Europe (by regions, September 2), Source: ECDC